(善牧基金會執行長湯靜蓮修女表示,多年來服務非常多特殊境遇的媽媽,她們都擁有過人的生命力)
(GS CEO, Sr. Therese Thong presented that GS served many mothers from different miserable situations, and found their extraordinary tenacity.)
天主教善牧基金會於4月3日舉辦「第一屆善牧媽媽節」活動記者會,此次活動乃邀請民眾就「媽媽就是生命力」為主題,上傳分享媽媽的照片,善牧基金會除舉辦網路攝影展,並會進行評選,將來稿者部分於台北光點藝廊展出一周。
On April 3rd, Good Shepherd Social Welfare Services held a press conference— "The 1st Good Shepherd Mother's Day". The topic is about "Mom is my best friend!" and we invited the public to upload his/her mother's representative photo to our website (http://www.facebook.com/goodshepherd.org.tw/?sk=app_492124014133119&app_data=104750#!/goodshepherd.org.tw/app_492124014133119). People could vote those they like, and the TOP 5 could obtain a small gift. After the voting, the public appraisal chose part of all the photos and displayed in the SPOT-Taipei Film House.
善牧基金會成立26年以來,服務相當多的「媽媽」個案,包括受家暴傷害、單親媽媽、弱勢新移民及原住民媽媽。為喚起社會大眾的關注,善牧於今年起逢母親節前後舉辦「善牧媽媽節」。
For the 26 years of services, GS helped many mothers, including single mothers, disadvantaged new immigrants, aboriginal mothers and those who suffered from domestic violence. To raise the public's concern, GS starts to hold the "Good Shepherd Mother's Day" from this year.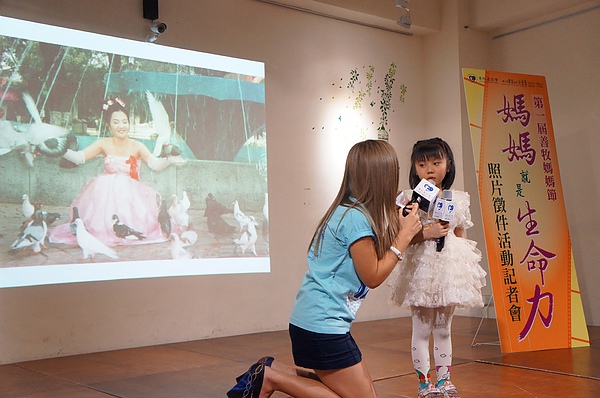 (善牧新移民家庭服務中心所服務的小朋友珮甄,也投稿自己媽媽(越南籍)的照片,雖然媽媽已在天堂,卻能透過照片回憶媽媽在世時為家庭付出的那種生命力)
(A girl from GS New Taipei City West New Immigrant Family Service Center also contributed the photo of her mom who is a Vietnam and passed away.Through the photo, she could strongly remind the tenacity from her mom devoting to her family. )
第一屆善牧媽媽節,除了照片徵件活動,善牧基金會也邀請社會大眾一起關注受暴媽媽議題。善牧鼓勵民眾可以捐款支持善牧受暴媽媽的服務工作,或是至「媽媽就是生命力」實體照片展出期間至展區參觀攝影作品,並在現場的打氣牆寫下或畫下鼓勵內容。不能到場的民眾,也可至本活動網頁留言(http://goodshepherd.pixnet.net/blog/post/30535658),為受暴媽媽加油。活動後善牧將集結這些鼓勵的文字給所服務的受暴媽媽。
For the 1st "Good Shepherd Mother's Day", we not only asked for the photos, but also invited the public to pay close attention to the issue of violence against women. The public was encouraged to help us in donation, visit the displayed photos, or leave the inspiring messages for the victims. At the end, we would collect and pass all the messages to the mothers who suffered or are suffering from the violence.