On 19th of March, 2012, President Ma held tea party with fourteen new immigrant women; two of them are members of Good Shepherd's New Taipei City West New Immigrant Family Service Center, Ms. Ping-Hua, Zeng and Ms. Qing-Chu, Chong. These fourteen new immigrant women were the characters of China Times series reports「New Taiwanese stories」in February.
Ms. Ping-Hua, Zeng, the leader of Good Shepherd Chamomile Volunteers Development Group, originated from Indonesia. She came to Taiwan for more than ten years, has four daughters. She was elected as the leader of the Group this year. She is enthusiastic in helping others women, taking her spare time to be the translator for The National Immigration Agency and Department of Labor. She is very grateful to the Good Shepherd, making her for what she is, and have the opportunity to meet President.
Ms. Qing-Chu, Chong came to Good Shepherd in 2005, she entered Good Shepherd's culture adaption program at Wugu District, New Taipei City. After that she also took other programs such as family reading and improving marriage relationship. Good Shepherd helps her to fit into this land. Last year her husband died in accidence, Good Shepherd accompanied her to go through the tragedy; Good Shepherd also shared her accomplishments of starting her beauty salon business and wins the nomination of best leading actress for unit drama of Golden Bell Award. She is grateful to Good Shepherd, and took every opportunity to feedback by helping others.
Ms. Ping-Hua, Zeng and Ms. Qing-Chu, Chong are the models that can be represented the fruits of Good Shepherd services in helping new immigrant woman. All women are willing to learn, to grow, and to develop themselves, if we gave them opportunities and helps.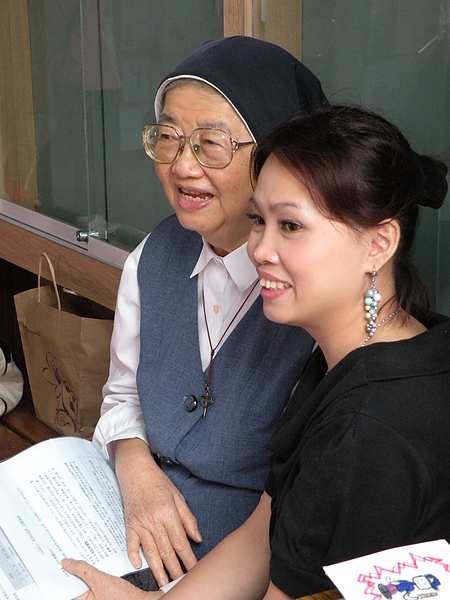 l(中時電子報)新台灣人出頭天 印媳莊清珠 演戲入圍金鐘獎:http://news.chinatimes.com/focus/501010499/112012020700035.htm
Ms. Qing-Chu, Chong with Good Shepherd CEO, Sr. Therese Thong